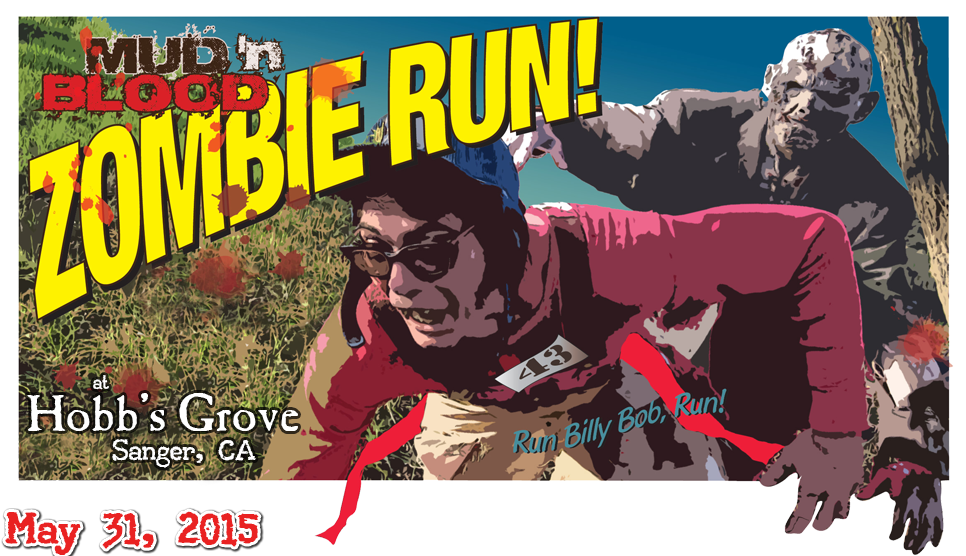 What The...?!
Central CA, May 31! It's a 5k course through Zombie infested blueberry fields, tree lined roads and over and through mud, water and obstacles. All obstacles can be "skipped" but you'll have to live with the shame.
Each runner will start with three flags. The goal is to finish the course with at least one flag remaining. Zombies on the trail will attempt to "infect" you by stealing your flags. Medics along the way can give you new life (a flag)! If you cross the finish line without any flags, your flesh will soon start to rot!  If you do not want to be Zombie food, just run without your flags and the Zombies won't want you.  Teams of any size can run too.
There are prizes for the Craziest Running Wear and Best Dressed Team so knock yourselves out! Then join The Dancing Dead, Life After Death Party with live music plus good friends, food and drink! There's plenty of water to run through along the course and the Zombie Creation Station and Party hang-out area are also in the shade of many large trees so don't fear the heat. Spectators are way welcome at no charge, that's FREE, other than parking (see details page). It's SO FUN!! 

To be a RUNNER, a ZOMBIE that also RUNS or a ZOMBIE ONLY, register soon! The price goes up as run day gets closer. You may also volunteer to HELP! at different work stations.  
Run for THEIR lives! Proceeds go to St. Jude Children's Cancer Research Hospital in memory of Ian Reynolds.
Check out ALL the information on this site and if you still have a question please email or message us.  Run for it!!!

Video
Like Us